Good News
Los Angeles Times Magazine July 5, 1987
China Dancer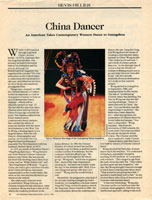 An American Takes Contemporary Western Dance to Guangzhou
By Bevis Hillier
When I first traveled through mainland China - for four weeks - in 1979, Chairman Mao Tse-tung was still alive. Our itinerary included reverential visits to his birthplace and his school. Although the British-based art magazine that organized the tour had 75% of its subscribers in the United States, no Americans were permitted to take part. And where ever we went, we were shown anti-American propaganda films. Read More
---
Los Angeles Times Magazine January 12, 1986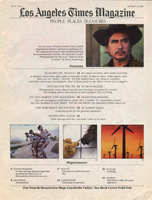 Rituals for the 80's
The Unusual Performances of Choreographer Yen Lu Wong
By Bevis Hillier
Meeting Yen Lu Wong makes you feel that you are living life on too shallow a level. The Los Angeles dancer and choreographer seems to read profound symbolism into everything and to juggle space and time with Einstein-like dexterity. William Blake wrote of seeing the world in a grain of sand. Wong perceive the universe in a grain of rice. Rice is the theme of the latest...dance?...happening? What should one call it?... that she is planning to stage with Moebius, the performance ensemble she and her husband, Herbert Shore, founded in 1972. Read More
---
EDITORIAL LETTERS East West Weekly October 16, 1985 P.2
Support Talented, Deserving Asian American Artists
By Yen Lu Wong
To the Editor:
ln the midst of protest, boycott, media coverage, and litigation surrounding the film, "The Year of The Dragon", l would like to suggest that we channel this upsurge of energy into something positive-namely, supporting productions of film, live stage performances in theatre and dance, the visual arts and literature that give a varied and diversely truthful picture of the lives of Chinese Americans. Read More
---
L. A. Weekly January 13-10, 1984

Yen Lu Wong's Documents From Hell - A New Expressionism
By Susan Block
She greets me, smiling, in a long black skirt and leg warmers, looking like the high priestess of the gymnasium. The gym is large and open, filled with hardly anything but pure, wintry afternoon light. She apologizes for the cold, ushering me over to her "altar" - a melange of video and sound equipment, diagrams, portfolios and heaps of tangled film. She tells me that her life is committed to an ideal, a vision of "all humankind dancing, because of our need for prayer, our need to link ourselves to the cosmos, to root ourselves to the earth." And somehow this conviction tis this gentle little Chinese woman named Yen Lu Wong to the powerful figures, moral outrage and anguish in German Expressionist art.
Read More
---
Sydney Herald (Australia) November 20, 1979
Three-day dance Is moving

By Jill Sykes
Between Silence and Light. a three-day dance event devised by Yen Lu Wong for the One Extra Dance Group, performed outdoors in Sydney on Friday, Saturday and Sunday.
THIS has been an extraordinary dance event, both a revelation and a celebration involving hundreds of people in public places that will never seem the same to them again.
It began by the light of the setting sun on Observatory Hill, with the white-clad dancers emerging over the curving green slope against a backdrop of urban living and slowly moving cargo ships. Read More
---
Neworld Magazine 1977 No.3
YenLu Wong - A New Force In The Wings
Interview By Lowry Pei
Yen Lu Wong is a Dancer and Choreographer - currently teaching the art of movement at the University of California in San Diego. She was born in Kunming, Yunnan, China. Her family moved to Hong Kong when she was eight, and she came to the United States to attend college when she was sixteen. She holds a B.A. from Tufts and an M.A. from Kansas University; she has also studied at the Martha Graham School and with Louis Horst, Alwin Nikolais and Irmgard Bartenieff.
Read More (1.3mb pdf)