About YenLu
Opening Ceremony for "The YenLu Wong Collection"
National Taipei University of the Arts, Taipei, Republic of China. October 22, 2011.
Address by Yen Lu Wong
"Heritage, Diversity and a Collection of Wisdom: Reflections of an Artist's Journey"
President Zhu, Dean Ping, Dean Wang, Ying Guan Zhang, and invited guests: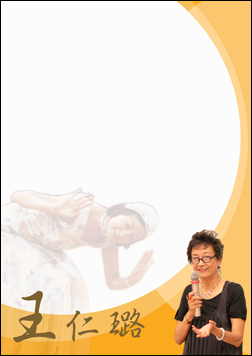 Thank you for your kind remarks. This is both a celebration and a historic event, on this the 100th Anniversary of the founding of the Republic of China.
Although I am not a Centenarian, I think I can safely reflect on 70 % of the100 years and relate how those events of our countries' past have impacted my own life and my life in dance. I use the plural of country to mean both Taiwan and the US as our two countries' fates are inextricably linked.
From the earliest time, probably when I was still in my mother's womb, I resonated to the dance, music, rituals of the diverse indigenous peoples in Yunnan where I was born. For these indigenous peoples, dancing and singing were always present at any rite of passage -- birthdays, weddings, funerals and festivities of harvest and planting. Their vibrations and rhythms filled the air and nourished me. These earliest influences convinced me that this kind of dance is sacred, non-ornamental, true and life affirming.
No artist is an island. Each artist's journey is nourished and supported by benefactors and mentors.
My parents were my first benefactors. They were both born in the Qing Dynasty.
My mother, Wei Chun-Mei, was very artistic. She played the flute and was a talented painter. Although she was educated in Private Home School, she had English lessons and wore sneakers and played badminton. My grandfather loved theatre, and took the entire family to the floating boat-theatres on the rivers of Xiao Shing. Xiao Shing opera was a favorite, and everyone could hum along from the most popular repertory.
Yet, even though my mother followed the conventions governing her time, there was also a rebellious streak in her. As was the custom, at 6 years old, her feet were bound. Each night, she would unstitch and unwind the binding cloth and hide them in a different place, sometimes behind the kitchen altar or in the attic. This went on for many weeks, until the adults were exasperated by the cost of replacing yards of cloth strips and the rapid growth of her feet and gave up. My grandmother said, See if anyone would marry you with such big feet? ! Although the bones of her feet were not all broken, still, she had difficulty walking throughout her entire life.
During the Japanese occupation, my father, Wong Tsin Forn, was the Manager of the Bank of China in Kunming, Yunnan. All the foreign currency to sustain the entire country and the war effort had to be trucked into China from India, via the Burma Road, passing through the mountainous regions of the numerous indigenous peoples.
Treatment of the indigenous peoples by the government was notoriously brutal. For survival, the local people sabotaged the trucks that labored through the treacherous highway. My father had only a handful of trucks and could not afford to lose any. He knew that to supply the foreign currency for all of China, he had to win the hearts and minds of the indigenous peoples. He sent in a team of doctors, to cure small pox and deliver other medical assistance. In time, he gained the trust of the local population.
When I was born, he wanted to name me in honor of this relationship. While Han people used the term Lo Lo to describe and refer to all the different tribes of indigenous peoples, Lo Lo was, nevertheless a derogatory term. So, he named me lu , with a female yu Oon the side to be E.
After the Victory, my father was posted as Manager of the Bank of China in GuanZhou, serving under T.V. Song's Provincial Governorship. In 1949, he oversaw the transfer of the Bank's assets to Hong Kong.
Under Colonial rule, all schools in Hong Kong were under different missionaries, from the Jesuits, to the Baptists. I had just finished 2nd grade. Because all the schools were jammed packed with refugees from the mainland, I was finally admitted to a French-Canadian Catholic School, St Clare's, but there was an opening only in 5th grade. So that was how I jumped from 3rd grade to 5th grade, from multiplication to pre-Algebra, familiar with only a few English alphabets.
All the main subjects were taught in English (in the nun's case, they were taught in French English). There was only one period devoted to Gu Wen, Classial Chinese. I was by then pretty fluent in Cantonese having lived in GuangZhou (Canton) for six months. Each evening, my mother helped me with my Classical Chinese in her dialect, Shanghaiese. Whenever I stood up in front of the class to recite passages, it would be in my mother's Shanghaiese- Cantonese, causing an uproarious laughter in the classroom. That is why I always flunked this class !
While I did not learn much Chinese or English, I did read many Chinese Classics which lined our book shelves. Of course, at a 3rd Grade level, I did not understand Dream of the Red Chamber (Book of Stone), but I loved the line drawings, finding the movement and relationships of the lovers, officials, maids, flora and fauna particularly intriguing and inviting.
My father had hoped that I would study medicine, which he never had the opportunity to pursue due to his obligations to his younger siblings. He sent me to Tufts University, having learned that one would be guaranteed admission to Tufts Medical School (wrong information!). When I was 18, I could no longer hide the fact that I was taking dance classes with Robert Cohan (of the Martha Graham Company; then teaching at the New England Conservatory of Music during the week; later, the Founder of the London Contemporary Dance Company) and that I wanted to forego medicine and dance with Martha Graham. My father asked me if this decision was reached after serious and multi-dimensional considerations and not some kind of adolescent emotional rush or romantic fantasy. My answer was affirmative; and I have never regretted this decision. At the time, he was living in HK so he asked my Uncle TseFoo to call on Graham in New York. My uncle reported back , Graham is a world class artist, respected and legitimate. But the dancers do not wear shoes and are barefoot - such dirty feet and such very strange dancing! My understanding and loving father accepted this 18 year old's decision which determined my whole life. From then on, he took it upon himself to visit the used books and antique shops in Hong Kong's Hollywood Road to buy books in order to encourage my new love of dance and theatre and help me establish an exemplorary and outstanding foundation towards my future. These books, include: the Autobiography of Mei LanFang; the Entire Collection of Qi Ru Shan (History of Chinese Theatre); the Ming plays The Peach Blossom Fan (the original edition); Emperor KanHsi Encyclopaedia, etc. These books are part of the donation and are now housed at this library, the National Taipei University of the Arts. Because I yearned for Chinese food but did not know how to cook, my father gave me a Collection of Huang Nuan-Shan's Chinese Cuisine. If you are wondering why this donation collection includes cookbooks, this is the reason.
Now I will say a few words about the other aspects of my eclectic collection. One section came out of my role as Associate Director of the UNESCO-sponsored project, Technology, Arts and Cultural Transformation (TACT).
This 10-year project examined the nature of cultural transformation with 36 participating countries. Central to this examination was exploring common threads between indigenous cultures and the advanced/industrialized countries. I treasure the collaboration with my colleagues in Tunisia, Poland, Ghana, Australia and Canada.
Another section of my collection came from my association with the Smithsonian Festival of American Folklife, Washington, DC., especially the 1976 Bi-Centennial Celebration. Here in the heart of our Nation's capital, folk artists from Nepal to Finland, gather to showcase their national treasures, demonstrating once more that all people, when they dance and sing in their true authentic voice, is engagingly mesmerizing, joyful and life-affirming.
A section of the Festival was devoted to Working Americans from which I learned how early railroad workers build railroads in the West. A group of retired railroad workers, in their '80s , recreated how they laid the tracks. They were nicknamed Gandy Dancers because of their rhythmic chants. This was the historic basis for my choreographic work, Golden Mountain , (the Chinese in America), especially the section on Chinese railroad workers.
Thanks to the generous support of the Kodak company who supplied 4 super8mm cameras, all the film stock and cost of development, I was able to record many of the events of this Festival. The original 34 hours of film documentation are archived at the Smithsonian. But, good news! the _ videotapes are with NTUA. I hope these tapes will be digitized and used not only by NTUA community but all of Taiwan and indeed world-wide.
I am holding up an award presented to me in 1968 by Minister Wang Hong Chun, Bureau of Cultural Affairs, Ministry of Education. However, it is to Mr. Yu Ta Kang that I owe the deepest gratitude. Without him I would not be here today. When I balked at creating a full-length concert in four weeks, Mr. Yu challenged me, There is no such thing as the perfect time. Grasp this opportunity, what are you waiting for?
That too has become my motto.
I know that my father is present today. When I was ten, he wrote in my Autograph Book, the motto: Learn to be a good person. This too guided me through my life. In the story of Alice in Wonderland, The Caterpillar asked Alice, Who are you?' In a sense, all artists ask this question. My answer for Alice is: to be a good ancestor.
The award from the Bureau of Cultural Affairs titled me with : US Overseas Chinese Dance Artist. And the shelves in the NTUA library also are marked with this same title (US Overseas Chinese Dance Artist ) I hope one day, finally, to be a Returning Dance Artist - to one's own origin. Not to return to Yunnan but towards the first steps on the path to being a good ancestor. Thank you.